Education
Maura comes from a family of educators. Her mom, Tracy, is a middle school nurse and her stepdad, Edward, was Maura's basketball coach and the president of their local teacher's union. As a middle school basketball coach herself, Maura believes strongly in the importance of a well-rounded, quality education for every child in Massachusetts.
Massachusetts is home to globally-recognized public schools and educators. But this achievement masks the persistent reality that Massachusetts is also home to wide opportunity gaps that plague our students of color, English language learners, students with disabilities, and low-income students. The past two years have been especially hard on our students, educators, and parents. Our entire education system has been upended by COVID-19. Every child has had their education and development disrupted at some level and the disparities that existed before the pandemic have only widened. As we emerge from the pandemic, we need to rebuild our education system so it works better for everyone and to ensure that all children have equal access to a quality education.
As Governor, Maura would be laser-focused on closing these opportunity gaps, from early childhood, to K-12, to higher education.
EARLY CHILDHOOD
Our early childhood education and care system – which is essential to the basic functioning of our economy – is in desperate need of investment. We saw what happened during this pandemic to our child care system – children suffered, parents couldn't go to work, and businesses and the economy struggled. Now, two years later, we still have 10 percent fewer child care slots than we had before the pandemic and families are struggling to afford the cost. Massachusetts ranks second in the country for infant care costs, higher than what most would pay to attend a public university. It's not surprising that the percentage of women in the workforce has dropped significantly. And our early education and care workforce – 40 percent of whom are women of color – is depleted by burnout and low wages.
Maura has been a strong advocate for greater investment in early education and care. She called on Congress to invest billions in the industry, pass federal child care legislation, and make the child tax credit permanent.
As Governor, she will continue to advocate for federal funding for early education and care, as well as explore state solutions to the child care crisis. Maura supports the Common Start proposal, which would make child care free for the lowest-income families, limit child care costs for most families to no more than 7 percent of their income, and significantly increase pay for early educators to address the workforce crisis in the early education field.
Maura will also support early education and care providers. As Governor, she will partner with educational institutions to create an early education and care workforce pipeline – including expanded access to career development opportunities – and implement strategies focused on workforce retention. Maura also supports efforts in the Legislature to increase salaries of early education providers and the effective implementation of the Early Education and Care Public Private Trust Fund.
K-12 EDUCATION
Maura is a longtime advocate for equitable funding for our public schools and improved behavioral health services for our students. She supported the Student Opportunity Act, which provides more equitable funding for our school districts. She opposed the 2016 ballot measure that would have drained millions from our public schools by expanding the number of charter schools in the state. And she's funded groundbreaking programming across the state to prevent substance use disorder, combat sexual assault, stop gun violence and bullying, and help young people build healthy relationships in school. Her partnership with Sandy Hook Promise has helped deploy their violence prevention program in 50 school districts throughout the state.
As Governor, Maura would continue her focus on closing achievement gaps and better supporting students and their families, including:
Fully fund the Student Opportunity Act. Our Gateway Cities and rural communities have historically been underfunded. These districts serve large populations of Black and brown students, and they deserve equitable funding.
Invest in behavioral health and wraparound services. With the disruptions and isolation of the pandemic, a rise in hate nationwide, and the stresses of the digital world, we are in the midst of a youth behavioral health crisis. There are long wait times for pediatric psychiatric beds and alarming instances of bullying across the state. As Governor, Maura would seek to invest in more school counselors and social workers to better address the behavioral health needs of students and their families. She also would prioritize more programming to identify other needs of families – such as housing, health care, or food insecurity – and work with school districts to connect them with the services they need.
Update our school buildings. Many of our school facilities are in disrepair, outdated, lack modern science labs and equipment, suffer from poor ventilation, and are not environmentally sustainable. The buildings most in need of renovation or replacement are disproportionately in lower-income communities that serve larger populations of Black and brown students and educators, who deserve to learn in modern and healthy environments. Maura would lead efforts to reevaluate the Massachusetts School Building Authority's reimbursement formula to support districts in need.
Recruit, retain, and promote educators of color. Our students of color deserve to walk into a classroom and learn from someone who shares their lived experiences. But in Massachusetts, where more than 40 percent of our student population are students of color, less than 10 percent of our educators are people of color. Twenty-five percent of Black students in Massachusetts attend a school without a single Black teacher. Research shows that having a single teacher of color can boost academic achievement, high school graduation rates, and college enrollment for students of color. As Governor, Maura will promote policies and legislation that will create a pipeline to better recruit, retain, and promote educators of color. This includes legislation that would explore alternatives to the teacher licensing exam (the MTEL), improve financial support for prospective teachers, invest in professional development, hire more support staff, and promote Diversity, Equity & Inclusion programs in local districts to better retain and elevate teachers of color to administrative positions.
Assess the role of standardized testing. Maura supports the efforts of the Massachusetts Consortium for Innovative Education Assessment and will work with stakeholders to determine what reforms to our assessment and accountability system would best support the goals of advancing excellence and equity, especially for students with disabilities, English learners, and those from marginalized communities.
Expand early college programs. The Massachusetts Early College Initiative helps students from low-income families and communities of color earn free college credits and receive support while still in high school. Maura will expand early college programming to help make higher education more attainable and equitable.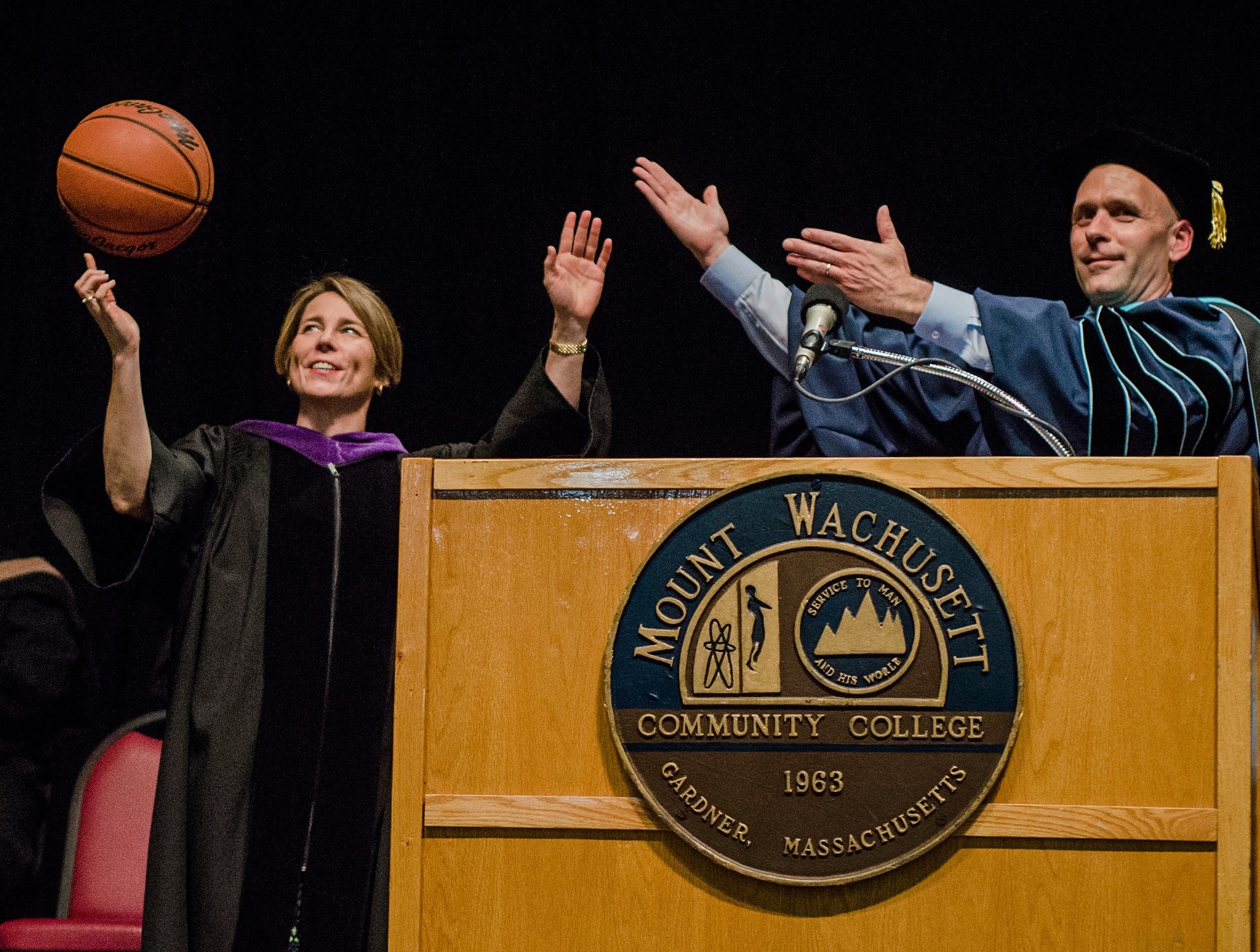 HIGHER EDUCATION
Massachusetts' colleges and universities are some of our greatest resources. They drive economic growth and higher wages, and foster an environment of curiosity and innovation for which our state is renowned. But underneath these achievements are persistent disparities. In 2001, our public university graduates had one of the lowest student debt in the nation. By 2016, debt levels climbed to 10th. One important driver of this change is cuts to state spending on higher education – Massachusetts spends 31 percent less on higher education per student than it did 20 years ago, and instead places that burden on our students in the form of increased tuition and fees. Higher education can be an important pathway to economic mobility, and our public university graduates are much more likely to stay in Massachusetts after graduation, starting their families, contributing to our economy, and forming the fabric of our communities. The jobs are here – a 2016 report predicted that many good-paying jobs in our thriving tech and health care industries would go unfilled. Today, that's truer than ever.
Maura knows all too well how student debt holds back our residents. She is the first and only Attorney General in the country to create a Student Loan Assistance Unit, and she's helped thousands of borrowers navigate our broken student debt system. She sued the Department of Education and brokered huge settlements with Navient and FedLoan that will help borrowers pay down their debt and receive loan forgiveness. She led the call with Senator Elizabeth Warren and Congresswoman Ayanna Pressley for President Bident to cancel up $50,000 in federal debt per borrower. For Maura, tackling our student debt crisis is a matter of basic economics and racial justice. Too many borrowers can't buy a home, start a family, or get ahead because of their debt. And Black and brown borrowers bear a disproportionate debt burden. As Governor, Maura would continue her focus on improving access to affordable public higher education and reducing student debt, including:
Continue to urge President Biden to cancel up to $50,000 in federal student debt per borrower;
Invest in our community colleges, which are an important driver of economic mobility;
Increase investment  into our public colleges and universities, update school facilities, and better support students, adjunct faculty, and other staff at these critical institutions.
Work to improve access and affordability of higher education so more students can graduate debt-free.